Model Citizen recently featured on archdaily.com. Check out the article here.
---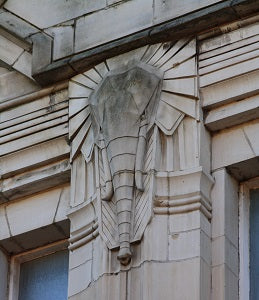 One of my most popular pieces that generates a lot of interest and discussion is the Art Deco Elephant head. Although it looks simple, the faceted geometry of the piece was a challenge to model. 
As some of you may or may not be aware the piece is based on one of two Elephant head carvings that adorn the decorative faïence façade of the former Burton menswear building on Ann Street in Belfast. The building is currently occupied by CeX with their awful signage that draws the eye away from the beauty of the ornate façade above. Surprisingly the building...
---
Now that the dust has settled after a manic Christmas and I have some time on my hands, I thought it worth while to start a blog to keep my customers up to date with what's happening in the world of Model Citizen.
When time permits, I shall be creating blog posts about up and coming projects, info on the pieces I have created and other general musings. So watch this space.......
Happy 2019 everyone and thanks for your continued interest and support.